Activity Details
Enjoy an unforgettable experience during this shallow water interaction at Dolphin Bay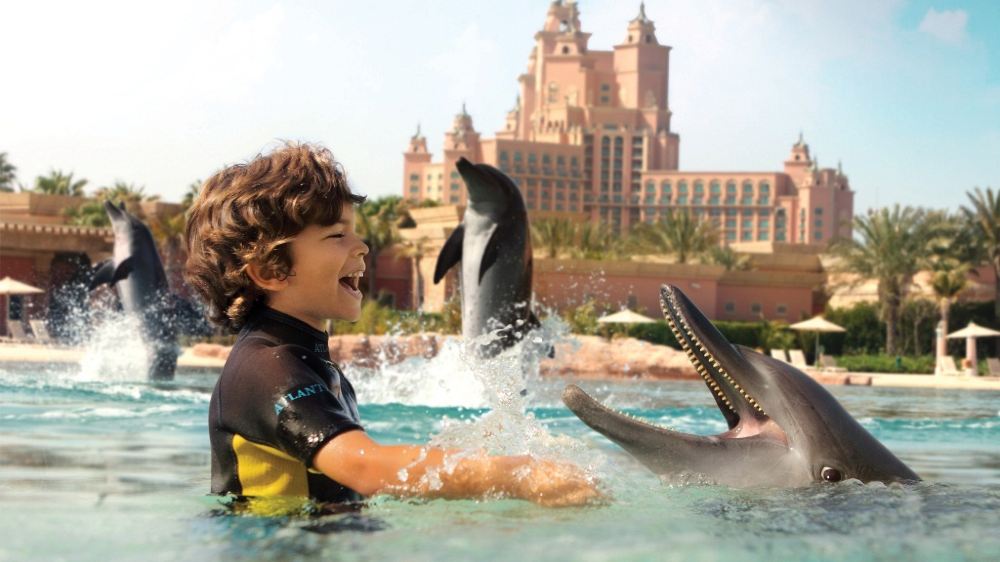 The perfect opportunity to meet and take a picture with one of our fascinating dolphins without getting into the water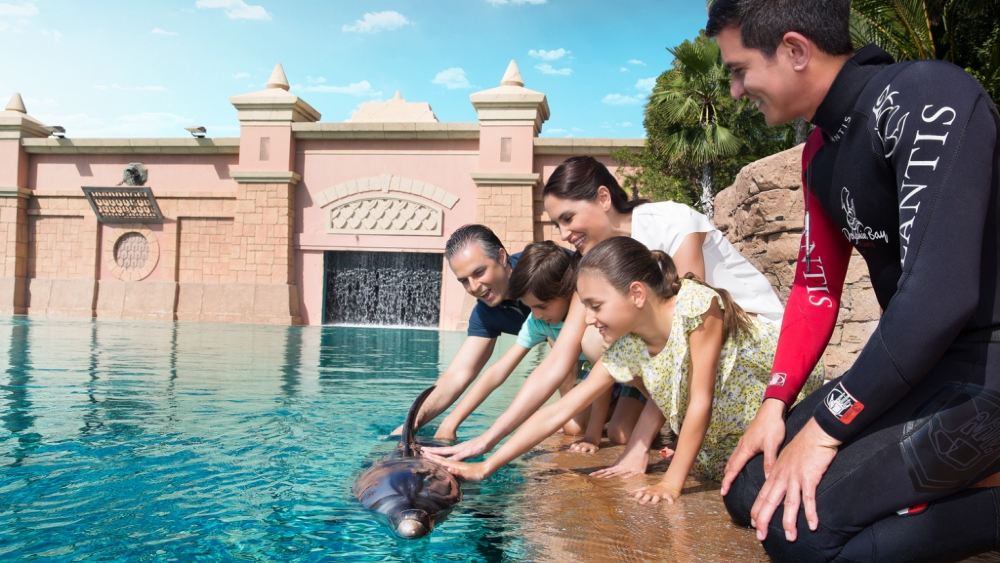 Atlantis Dolphin Encounter
Key Features:
Shallow water interaction, non-swimmers are welcome
Open to all ages
Limited to just 10 guests per dolphin
30 minutes in the water
Connect to your dolphin through kisses, hugs and dancing
Enjoy watching as they show off their high energy behaviours
Discover interesting information about dolphins and other marine mammals
Please note: Aquaventure Waterpark entrance is included when booking this experience
Key Features:
No need to get into the water, and your swimming costume is not required
Open to all ages
Each session is limited to just 15 guests
Spend up to 10 minutes at the edge of our lagoon
Touch and kiss the dolphin
A souvenir photo is included
Please note: Aquaventure Waterpark entrance is included when booking this experience
Address: Atlantis The Palm, Crescent Road, Palm Island, Dubai
Opening Time:
Each day from morning 9:30 to sunset, Atlantis is open all day (opening hours for each area are different)
The Lost Chambers Aquarium: 10:00-22:00, Dolphin Bay: everyday morning 9:30 to sunset
Atlantis Aquaventure Waterpark: each day opening from 10:00 until sunset (opening hours are adjusted based on different seasons)
Inclusions
Dubai Park admission ticket
Choose one of four on site (Legoland, Motiongate, Bollywood Parks, Legoland Water Park)
Aquaventure Waterpark entrance is included when booking
Take picture with dolphin
Exclusions
All personal expenses and expenses not mentioned in the inclusions
Change & Refund Policies
Once this product is successfully booked, it cannot be changed or canceled
Trip.com only provides the booking service for this travel product. The specific cancellation policies are strictly in accordance with the supplier's standards. Please read carefully before booking
How to Use It
All times are given in local time.
Present the printed voucher to receive your admission ticket and make appointment for Dolphin Encounter
Admission Location: Aquaventure Waterpark (Aquaventure) ticketing plaza Dolphin Bay window.
Admission Time: scenic area hours of operation.
We advise that guests arrive at Dolphin Bay Ticketing at 10:00 AM to make appointment onsite
Activity Essentials
Traveller Information
Adult: Age 2+
Dolphin Encounter/Dolphin Photo Fun/Dolphin Adventure: Children under 12 must be accompanied by adult age 18+ Royal Swimming: only available for guests age 12+
Important Information
Please provide your personal information and contact details when booking
Age restrictions: All children under 12 years old must be accompanied by a paying adult (18 years and above). One adult per three children, per interaction.