Activity Details
ATTRACTION: Wet'n Wild Hawaii
Wet'n Wild Hawaii is located on Kapolei, a bustling tropical landscape on Oahu Island. It covers 12 hectares and is only 20 minutes from Honolulu. Have a fun day here! There are more than 25 rides and attractions and a good place for a family trip.
Extreme water experience such as the "Tornado" provides the visitors with an exciting experience where visitors descend from the 40-meter-high passage, swirling and fierce water, and slide into the pool. There are also moderate rides in the amusement park, such as the slow-moving river Kapolei Kooler; and the "Hawaiian Waters Wave Pool" ride is a children's play area with fountains, water cannons, mini slides and tipping buckets.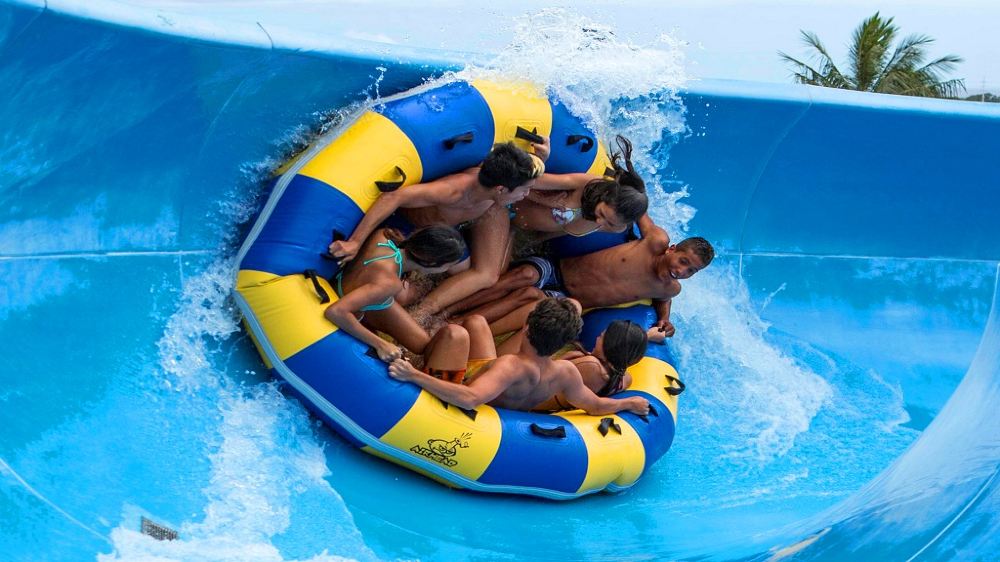 WHAT YOU EXPECT
Water World Kids Playground
With over 20,000 square feet of aquatic adventure, this playground is full of fun for kids. There are 5 different play areas for children to enjoy themselves in the cool pool in the afternoon.
Keiki Kove:
Mini-water spouting volcano, water cannons, mini-water slides, or dancing in and out of a mushroom water shower cascading in the middle of the splash ground all can let your children have an unforgettable experience playing with water.
Surf Sliders:
Let your children ride down these exciting and thrilling slides. And this is an extreme activity in the children's zone.
Kapolei Kooler:
This activity allows you to rift leisurely in the tropical gardens in a waterway of about 250 meters. You can just sit in the swim ring and follow the river slowly.
Cutter's Island:
It has thermal springs leisure trail, where you can let your tired body soak in the warm pool and relax
Island Adventure Golf:
The miniature 18-hole golf course is suitable for the whole family.
Surf pool:
It is an artificial wave pool modeled after Waikiki beach, which USES 1.6 million liters of water to create a water empire.
Raging River:
Suitable for the family rafting experience, a boat of seven people per go will slide down a pipe about 200 meters long.
Waianae Coaster:
You will speed down the 100 meter long detour.
Big Kahuna:
It is one of the most popular rides in the park. You can enjoy a brand-new feeling as you go down the rapids.
Flyin 'Hawaiian:
You will plummet to pools with 4 meter in depth like freefall.
Tornado:
It is located on the edge of Kapolei hills. The participants will fall down from a height of 15 meters along the semi - enclosed water line like a tornado.
Island Racers:
It is built on a natural cliff and there are twisting tubes attached to the top of the previous slide that makes it a faster, longer ride with the descent speed is over 6 m/s.
Shaka:
With this activity, you can have an extreme thrill experience including a "zero gravity" sensation. And you will reach exciting speeds of up to 10 m/s.as you fly in forward and reverse motions.
Da' Flowrider:
Even you don't have any skill, you can still experience the thrill of surfing just like in the real sea.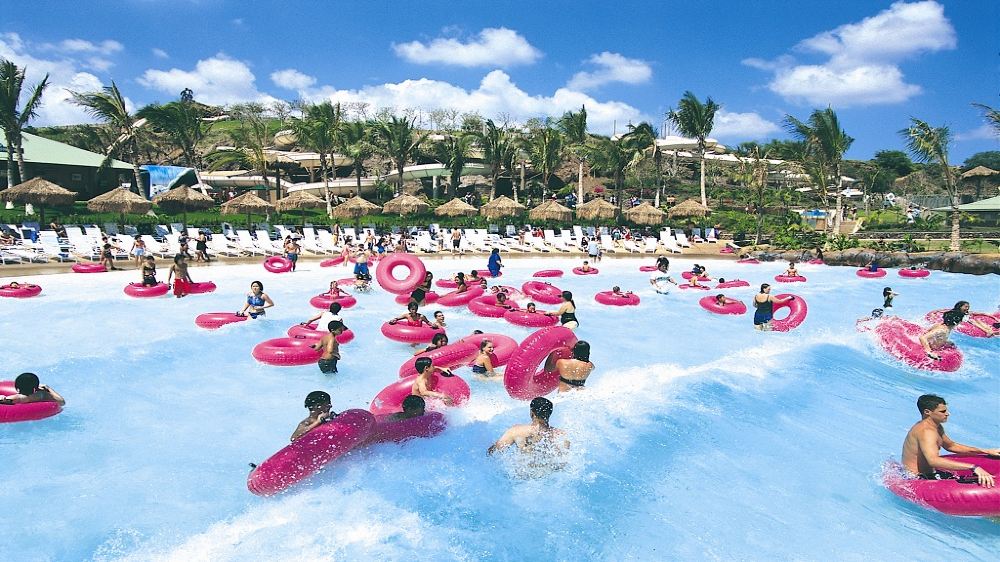 WHY HERE?
There are exciting rapid-fall pipelines -- tornadoes -- and relaxing moderate water rafting, enable you to have a real surfing experience.
Whether you a thrill-seeker, or just on a relaxing vacation, you can find something suitable for you in this water park.
Itinerary
08:45- 09:35 pick up at designated place. Please arrive at the meeting point 5-10 minutes prior to the scheduled time.
10:00- 15:00 free activities in the Wet'n Wild Hawaii
16:00 return to the hotel (time is based on the arrangement by the tour guide)
The itinerary and opening hours is subject to the official opening.
PICK-UP TIME AND MEETING POINT:
08:45 Alamoana Hotel (Mahukona Street)
08:50 Hawaii Prince Hotel (Holomoana Street)
08:55 Ilikai Hotel (Ilikai Flagpole on Ala Moana Blvd)
09:05 Sheraton Waikiki (Aloha Landing)
09:10 Ambassador Hotel (Namahana Street)
09:15 Moana Surfrider (Kalakaua Avenue)
09:25 Hyatt Regency Hotel (Koa Avenue)
09:30 Pacific Beach Hotel (Liliuokalani Avenue)
09:35 Waikiki Beach Marriott (Paokalani Bus Depot)
Inclusions
Admission ticket for the Wet 'n' Wild Hawaii Water Park (All activities in the park included, except for Raging River and Island Adventure Golf. Please refer to the arrangement of the park)
Exclusions
Gratuity of the tour guide
All personal expenses and expenses not mentioned in the inclusions
Travelers will be asked to cover additional costs due to traffic delays, strikes, weather, airplane or mechanical faults, canceled or rescheduled flights, and other major unforeseen events.
Change & Refund Policies
Free cancellation at or before 06:00 at least 3 days before the date of use
Cancellations made after 06:00 at least 3 days before the date of use will incur a cancellation fee of 100%
If you need to change your booking, please cancel and rebook
Trip.com only provides the booking service for this travel product. The specific cancellation policies are strictly in accordance with the supplier's standards. Please read carefully before booking
How to Use It
All times are given in local time
A confirmation text will be sent to you after successful booking by Trip.com
Please arrive at the meeting point 8 minutes prior to the scheduled time and bring the printed voucher or identity document like passport
Activity Essentials
Air-conditioned trasnfer bus/ buisness cab
Traveller Information
Adult: Age 12+
Child: Age 3 to 11
Free for children aged 2 and under
Important Information
For pick-up service, the driver will go to the hotel in turn, which may make you wait for some time. The duration of each scenic spot may adjust according to the actual situation, please understand.
The itinerary shown in the product description is only for reference, which may be slightly adjusted due to the influence of other passengers, weather conditions and other objective factors. Please take the actual on-site itinerary.
If you choose to only participate in some of the itinerary, the unfinished part will be deemed to be given up voluntarily with NO refund.
As the product is a local group tour, please wait for the tour guide/driver at the scheduled time and place mentioned in the confirmation slip. If you are unable to arrive at the designated place on time due to your own issues or if you have not seen the tour guide/driver after waiting for 10 minutes. In this case, in order to avoid the loss caused by the lack of participation, please call the tour guide or the emergency number directly. The tour guide/driver may not may not take the initiative to contact you. Please understand.