Activity Details
Cairns is a must do skydiving destination, and Skydive Cairns provides our thrill seekers with the only possible way to see the Great Barrier Reef and the tropical Rainforest all at once in freefall and under canopy. Combine the terrain, the reef and the expansive ocean views, and it is quite simply - breathtaking.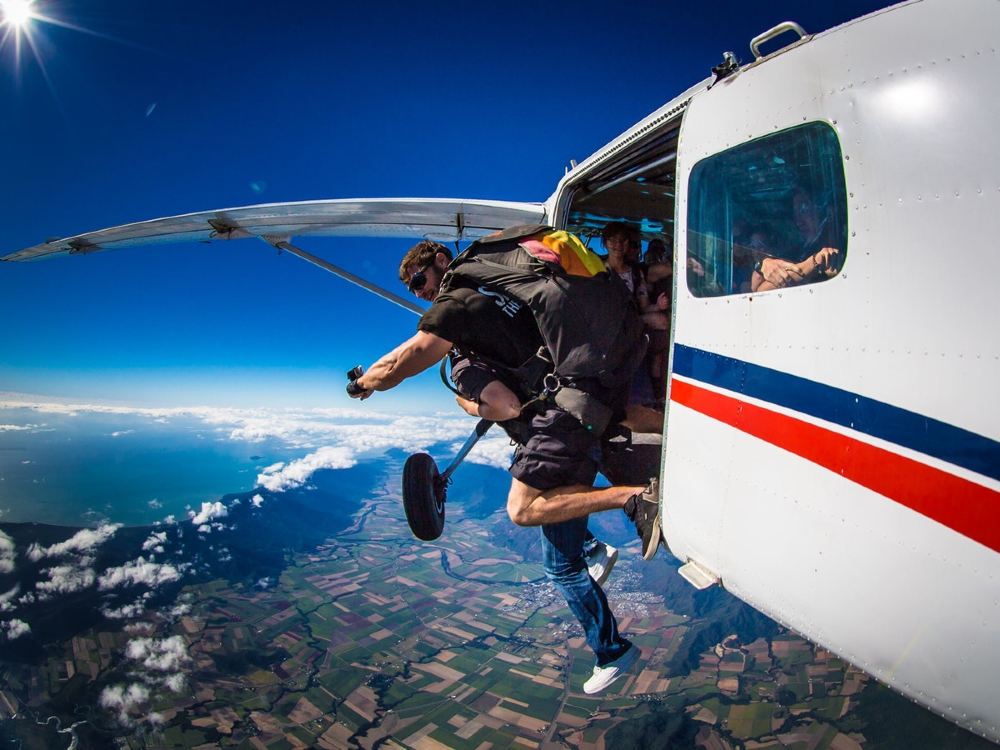 Duration: half day (cairns)/ one day (mission beach)
Meeting Time: Please refer to voucher
Meeting Point: cairns hotel
Itinerary
05:30/06:30/07:30/08:30
pick upform cairns hotel
09:00am skydive
10:30am Back to Cairns Hotel
Inclusions
Tandem skydive from up to 15,000ft over Cairns, with amazing Great Barrier Reef views
Free return pick-ups from Cairns and surrounds (bookings essential)
Video & Photos NOT included
3 month membership of the Australian Parachute Federation
Personalised certificate of achievement
Change & Refund Policies
Free cancellation at or before 16:00 at least 3 days before the date of use
Cancellations made after 16:00 at least 3 days before the date of use will incur a cancellation fee of 100%
Partial cancellation of this booking is not permitted
How to Use It
Show voucher to attend the trip
Activity Essentials
Surrounded by breathtaking rainforests and the largest coral reef system in the world, paradise is waiting for you! Jump from up to 15,000ft over Cairns, reaching speeds of up to 220km/hr for up to 60 seconds for a heart-stopping, life-changing freefall!
Skydive in Cairns with the best: best views, best locations, best customer service and the best instructors. You're in safe skies with the Skydive Australia crew, so step outside your comfort zone and push personal boundaries with a skydive experience you'll remember forever.
Important Information
what to wear
Wear loose, casual clothing and sneakers as footwear. We provide customised jump pants to put on over your clothes, and in winter we provide fleeces and gloves. If you need anything, just ask. We're all about keeping you safe and comfy!
the night before
Get a good night's sleep before your big jump, the epic adrenalin rush can be exhausting! You must not have consumed any drugs or alcohol in the eight hours preceding your skydive, and you cannot scuba dive 24 hours before skydiving.
jump restrictions
You must be 12 years of age or older to skydive. There is no maximum age limit, however reasonable fitness is required. If you are over 110kg, you will be subject to tandem master assessment. Surcharges apply to participants 95kg and over.
on the day
Skydiving is a weather dependent activity, so arrive with no time constraints. Keep your mobile on - we'll call you on the day if conditions are unfavourable. You can call us on 1300 663 634, otherwise assume your jump is going ahead.