Activity Details
This luxurious 17th century French castle is a masterclass in excess. It has hundreds of acres of magnificently landscaped gardens, more than 700 rooms, a large collection of 18th century French art, an opera house and a 75 m-long hall of mirrors lined with statues and busts. It's one of the most visited attractions – and castles – in France, as well as a UNESCO World Heritage site.
The word grandeur could have been coined for Versailles itself - with this ticket you'll be able to enjoy the entire package, not only the palace but also Marie Antoinette's separate estate and the Musical Fountains Show or the Musical Gardens. Find the secret passage she used during the French Revolution to reach the king's chamber.
In its heyday as the French royal court, Versailles accommodated 10,000 people; it's always been synonymous with extreme extravagance. This opulence is exemplified by the Galerie des Glaces (Hall of Mirrors). It's a 75 m-long ballroom, adorned with busts and statues (and - of course - mirrors, 357 of them). Not only a beautiful building, it's also where the Treaty of Versailles was signed to put an end to WWI, and one of France's most visited sites.
Marie Antoinette famously said "let them eat cake" and her elitist tastes can be seen by the fact that Versailles wasn't quite big enough for her. She was given her own little 'hamlet' on the edge of the estate (which is comprised of three 'smaller' palaces).
And for the pièce de résistance you can bask in a royal glow with either the Musical Fountains Show or the Musical Garden (it depends on the day you visit and the package you choose). The former allows you to amble by the fountains and groves as the water features keep time with classical music. The latter gives you a courtly promenade through the gardens as classical music sets the mood.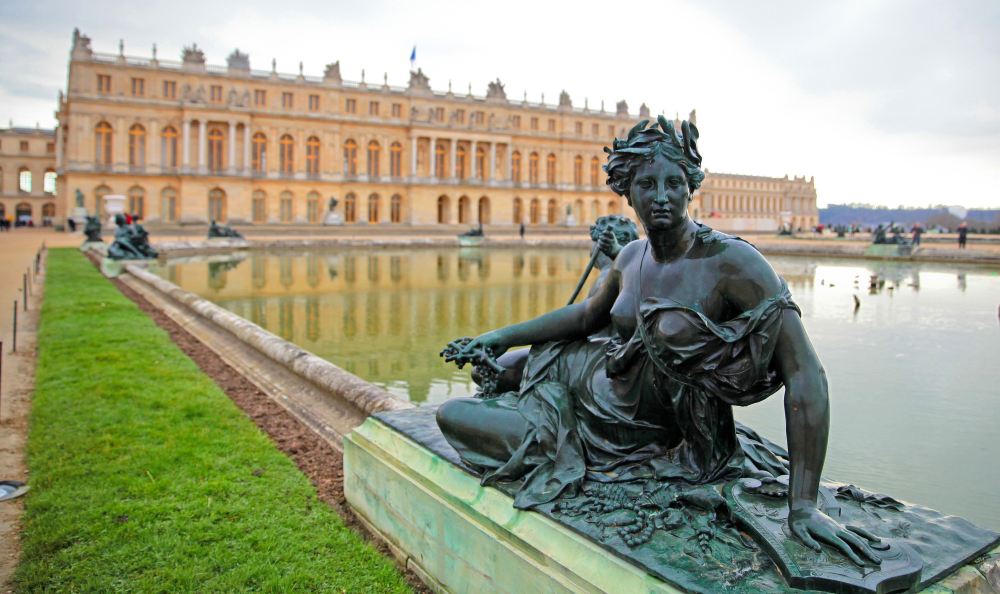 Booking Validity
Other, Valid for 1 use(s) only
Inclusions
Pass: Palace area of ​​Versailles: Mirror Gallery, King and Queen's bedroom, King's bedroom, Crown Prince's bedroom, and wife's bedroom (open on weekends); temporary exhibitions; large and small Trianon palaces; palace gardens (with or without Music fountain show or music garden, according to your choice); park.
Valid until December 31, 2021, with no restrictions for use date.
Change & Refund Policies
Once this product is successfully booked, it cannot be changed or canceled
How to Use It
All times are given in local time.
Valid until December 31, 2021, with no restrictions for use date.
The attraction offers 4 admission times: 9:30, 11:30, 13:30, 15:30. Please arrive at least half an hour in advance to exchange tickets. The attraction will arrange your final admission time according to the actual situation on the day.
Address: Palace of Versailles, Place d'Armes, 78000, Paris
Redemption Location: Show the ticket at the ticket desk, in the south Minister's wing to obtain a time slot, then access on gate A;
Redemption Time: 09:00-15:00
Closed every Monday, January 1, May 1, December 25
Activity Essentials
AUDIO GUIDE: including Chinese, English, Japanese, Korean, French, German, Spanish, Italian, Portuguese, Polish, Russian
Traveller Information
Adult: Age 18+
Under-18s, EU residents under 26, school teachers with a pass, disabled visitors with a carer get in free with a valid ID
Important Information
Due to the epidemic, the number of visitors needs to be controlled. The scenic spot will arrange your final admission time according to the feasible time when you exchange your ticket
The e-ticket will be sent to your mailbox in the form of an email attachment. Do not scan randomly or try to use the barcode on the confirmation sheet, otherwise the barcode will become invalid
From November to March of the following year on the first Sunday of each month, Versailles is open to the public for free (subject to the information on the official website)
Visitors under the age of 26, regardless of nationality who are resident in the EU and hold a valid photo ID with date of birth (passport, resident card, student ID, etc.) can enter the park for free. For specific free groups, please check the official website. Due to the current epidemic period, free tickets still need to be reserved
In the event of a strike, government control and other force majeure, it will not be possible to visit on the day, and we cannot inform in advance