Activity Details
Located on the north-western side of the island, the Singapore Zoo is a haven for wondrous wildlife and a must-visit for animal lovers.
This beloved establishment first opened its gates to the public in 1973, and has since become one of the best rainforest zoos in the world.
Besides being home to over 2,800 animals from 300 species—including crocodiles, Malayan tapirs and white tigers—the zoo has won a trove of international and local awards.
These include plaudits from Forbes Traveler as one of the best zoos in the world, the Asian Attraction Awards for Most Popular Attraction in the Wildlife Park category and the STB 22nd Tourism Award for Best Leisure Attraction Experience of the Year. It was ranked as one of the 3 zoos in the world by the TripAdvisor Travellers' Choice Award in 2018.
Take a walk on the wild side with us and discover what the Singapore Zoo has to offer.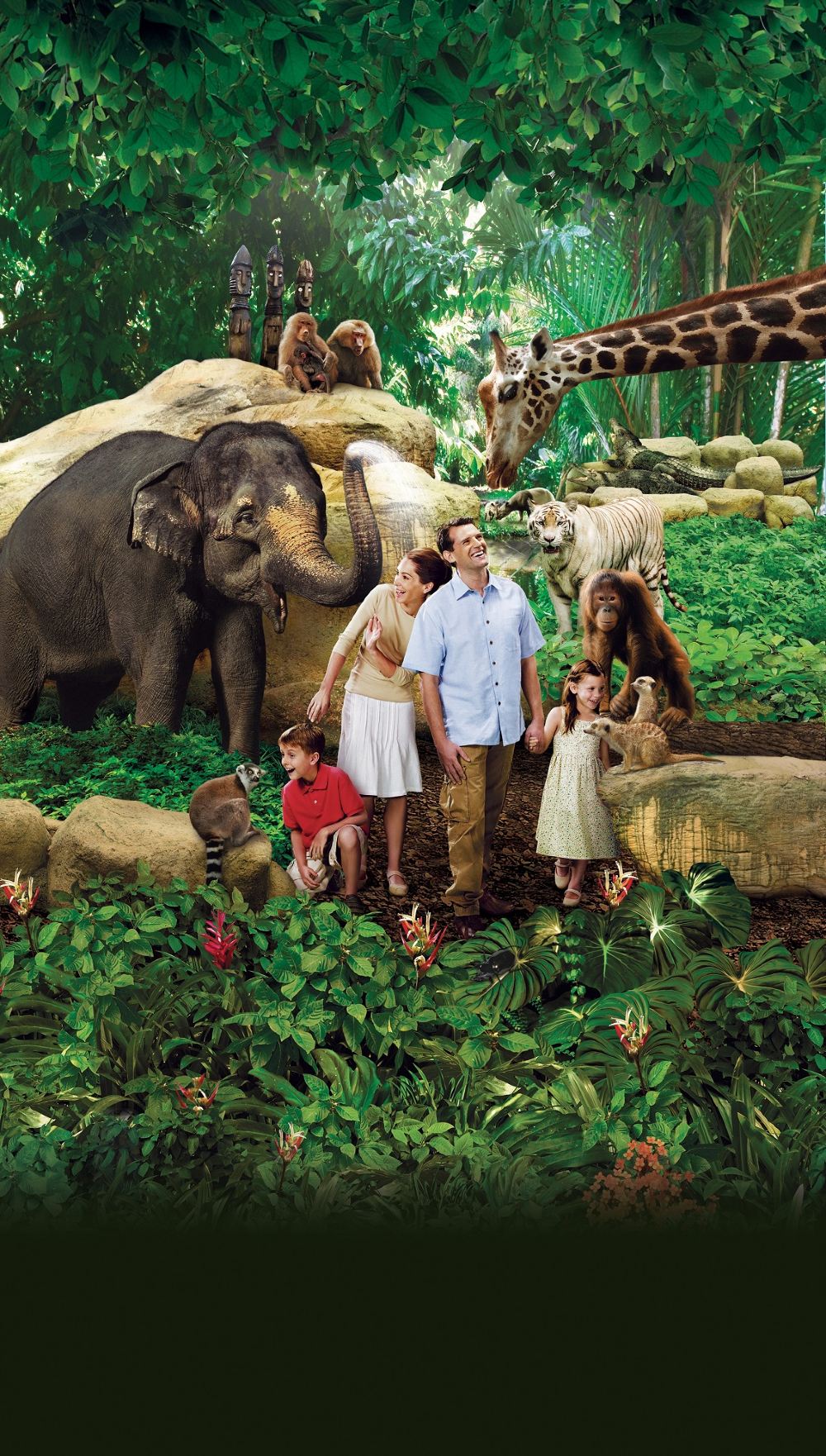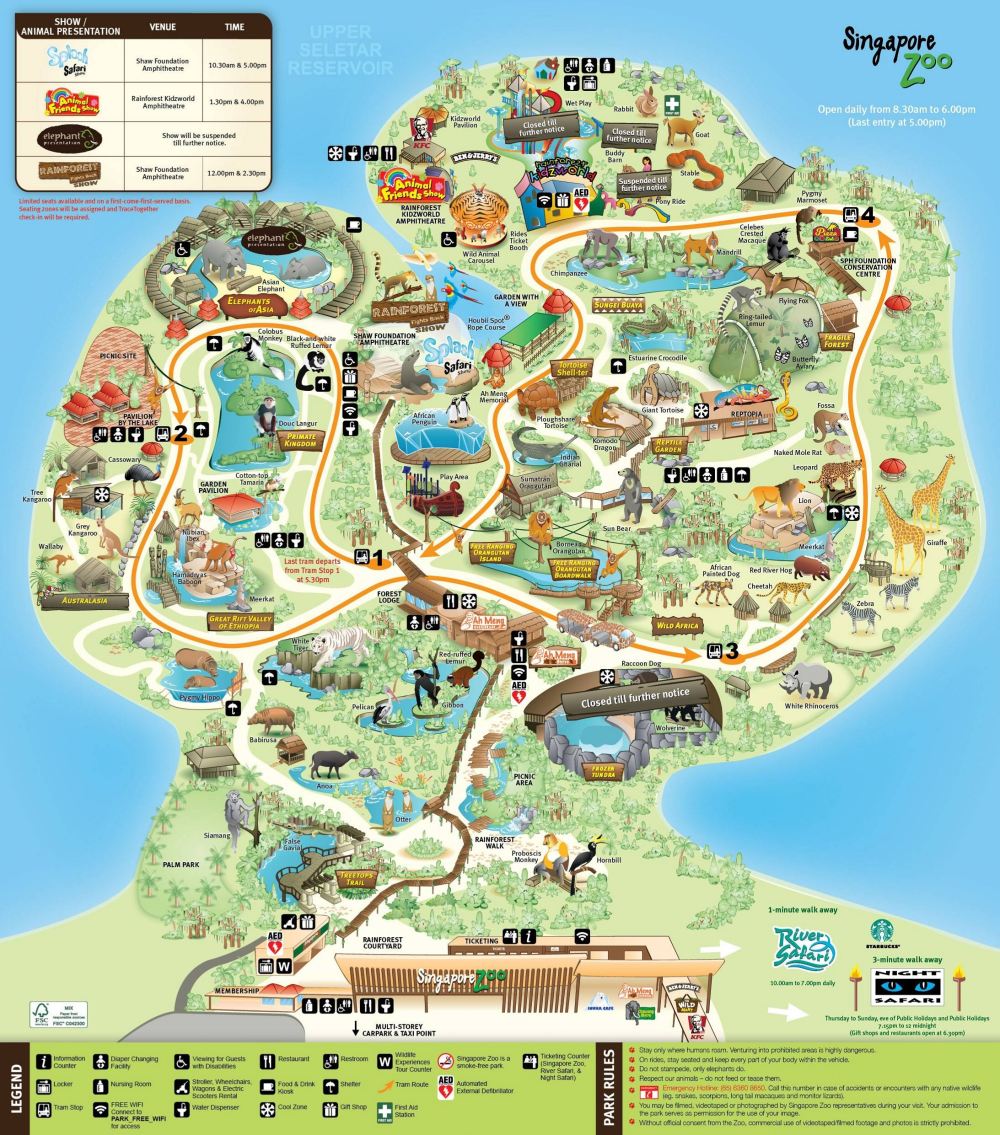 【Temporary Closures】
The following Park Experiences are temporarily suspended due to safe distancing measures:
Elephant Presentation
Keepers' Chit Chat
The Play Area at KidzWorld is temporarily closed due to safe distancing measures. Pony rides, Falabella grooming and Rabbit petting at Buddy Barn at KidzWorld are temporarily suspended due to safe distancing measures.
The following exhibit will be closed due to upgrading works:
Frozen Tundra (Until further notice)
Our shows are operating at limited capacity as part of the necessary Safe Management Measures. We seek your understanding that once full, we will be unable to accept more guests.
Inclusions
Admission to Singapore Zoo or Rainforest Lumina
Singapore Zoo Senior Admission include tram ride
Singapore Zoo Admission + Cold Beverage + Souvenir Package Include one (1) Cold Beverage with Souvenir Cup and one (1) 16.5'' animal cushion of 4 different designs (usual price is at $18)
Change & Refund Policies
Once this product is successfully booked, it cannot be changed or canceled
How to Use It
Admission times and opening hours are in local time
Before you visit the park, you must book a date/timeslot through the portal: http://reseller.wrs.com.sg/ticketstore/guestbooktimeslot
After you confirm the selected date/time, you cannot change the date and time of the park visit. Mandai Wildlife Group reserves the right to deny admission if no prior bookings are made
Present the e-voucher & reservation on your phone and reservation to gain admission by scanning QR Code.
Singapore Zoo Opening Hours: 8.30am - 6.00pm (Last entry at 5.00pm)
Rainforest Lumina Operating Hours: 7.15pm – 12am (Last admission timing at 10.15pm) Closed Mon to Wed
Address: 80 Mandai Lake Road Singapore 729826
[Admission + Cold Beverage + Souvenir Package]
Cold Beverage Redemption Venue: Inuka Café or Ah Meng Restaurant
Retail Merchandise Redemption Venue: Zoo Entrance at Main shop
All redemptions will only be applicable according to the respective park on the same day of visit
In the event if the offered item is out of stock, similar items with the same value will be offered as replacement without prior notice
Activity Essentials
Traveller Information
Adult: Age 18 to 59
Youth: Age 13 to 17
Child: Age 3 to 12
Senior: Age 60+
Admission for child below 3 years old is free
Important Information
Stay only where humans roam. Venturing into prohibited areas is not allowed and highly dangerous.
The park is our animals' home, so treat them with respect.This includes NOT feeding, teasing or plucking off their feathers.
Please stay seated and keep hands and feet within the tram during the ride.
There's room enough for everyone in the zoo, so do not make a rush for any show or exhibit.
Please switch off the flash photography function in your camera when taking photos as it may blin, disturb or startlethe animals.
Without official consent from the zoo, the commercial use of videotaped/filmed footage and photos is strictly forbidden.
You may be filmed, videotaped, or photographed by park representatives during your visit. Your admission to the park serves as your consent to the use of your image.
Singapore Zoo is smoke-free. The designated smoking point is located outside the park entrance.
The park is a designated quarantine area. Pets and plants are not permitted as they may affect our animals' health and safety.
Skate scooters, inline skates, rollerblades, tricycles and pull trolleys are not permitted in the park as they may compromise our guests' safety.
Some exhibits may be temporarily closed for refurbishment, please check with the attractions for more details.
All SRV Admission Tickets are subject to Mandai Wildlife Group's prevailing "Park Ticket Terms & Conditions" published at https://www.wrs.com.sg/en/park-terms.html.