Activity Details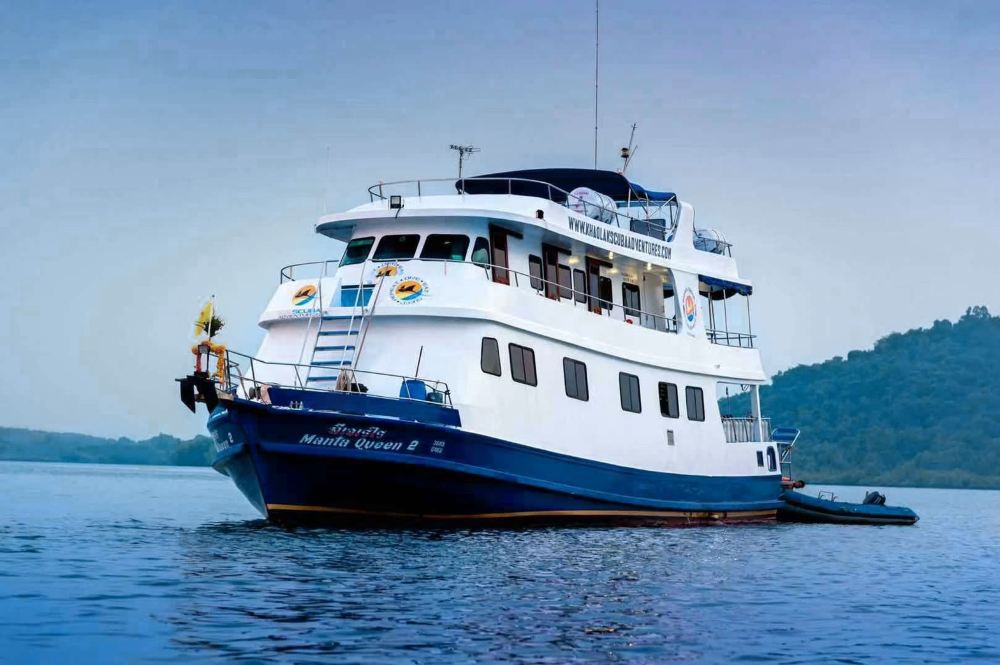 Inclusions
- Round trip shared transfer between Phuket Airport, Hotel in Phuket area and the boat
- Shuttle bus service in Khaolak on the departure and arrival day
- Drinking water, coffee, tea, juice and Soft Drinks
- Breakfast, Lunch, light snacks, dinner, and fresh fruit
- Fin, snorkel, mask for non-diver
- Free Wi-Fi Hot-Spot access
- Torch for night dive
- Towel for shower and toiletries
- Dive guide for small group
- 12L tank, weight belt & lead weights
Exclusions
- National marine park fee (Diver 1,600 THB, Non-Diver 1,000 THB)
- Dive insurance 800 THB
- Full Set Dive Equipment Rental: (BCD, Shortly Wetsuit, Regulator, Mask, Fin, Torch) 1,500 THB
- Dive Computer Rental 1,000 THB
- Prescription Mask Rental 1,000 THB
- Long wetsuit Rental 1,000 THB
- Short wetsuit Rental 500 THB
- Unlimited Nitrox Package 2,500 THB
- Unlimited Nitrox 15 Liter Package 3,500 THB
- 15 Liter tank Rental Package 2,500 THB
- BCD Rental 500 THB
- Regulator Rental 500 THB
- Alcohol drinks
- Private taxi in case of missing the shared vehicle
- Private dive guide
Change & Refund Policies
Cancellations made at or before 09:00 at least 60 days before the date of use will incur a cancellation fee of 30%
Cancellations made after 09:00 at least 60 days before the date of use will incur a cancellation fee of 100%
Partial cancellation of this booking is not permitted
How to Use It
Manta Queen 2 is running a 4 days 3 nights trip to diving points below: Koh Bon, Koh Tachi, Richelieu Rock, Local Wrecks
Manta Queen 2 accommodates 20 guests in comfortable air conditioned cabins of which three different types are available."
Our liveaboard vessel is 22 meters long and 5 meters wide wooden hull built boat that is manned with 5 dive staffs and 7 boat crews.
All meals on board are served buffet style freshly cooked from the on board kitchen. Snacks and fruits are served in between dives. The dinghy gives you the opportunity to spend some time on the beautiful beaches.
"Nitrox is also available onboard as well as Nitrox courses (EANx) and a wide range of PADI Courses i.e. Open Water Course, Advanced Open Water Course, Deep Speciality and many more.
11 world class dives at Thailand´s premier dive destination.
DIVE - EAT - SLEEP – REPEAT
Important Information
1. Similan National Marine Park requires minimum Open Water certification for the diver to be allowed to dive at its dive sites. Diver must show your diving license before the trip departure. If you have not certified, you can contact divecourse1@ksaliveaboard.coom to take the course and get your certification before the trip departure.
2. Manta Queen boats depart from Tablamu port, Phang Nga Province around 6 pm. of the departure date. The port is about 1 hour from Phuket International Airport. Diver must arrive at Phuket International Airport before 2 p.m. to catch up with our Phuket Airport pick up service which will leave from Phuket Airport at 3 p.m. If diver arrive later than our normal pick-up time, please contact us at operation1@ksaliveaboard.com for the private taxi which diver has to pay as the extra.
3. all divers are required to have appropriate dive insurance coverage (included evacuation and recompression chamber) for the diving days. Proof IN WRITING and IN ENGLISH will be requested during check-in, especially if coverage is included in guest "Travel Insurance". If you do not have such an insurance, you can purchase our full coverage during check-in.
4. Divers have to wait 24 hours after diving before travelling on an airplane.