Activity Details
There are a few destinations in Thailand that can be really called 'Paradise on Earth' and one of these is the Similan Islands. Simply the best snorkeling destination in the Kingdom, these inhabited islands form an area of great natural beauty.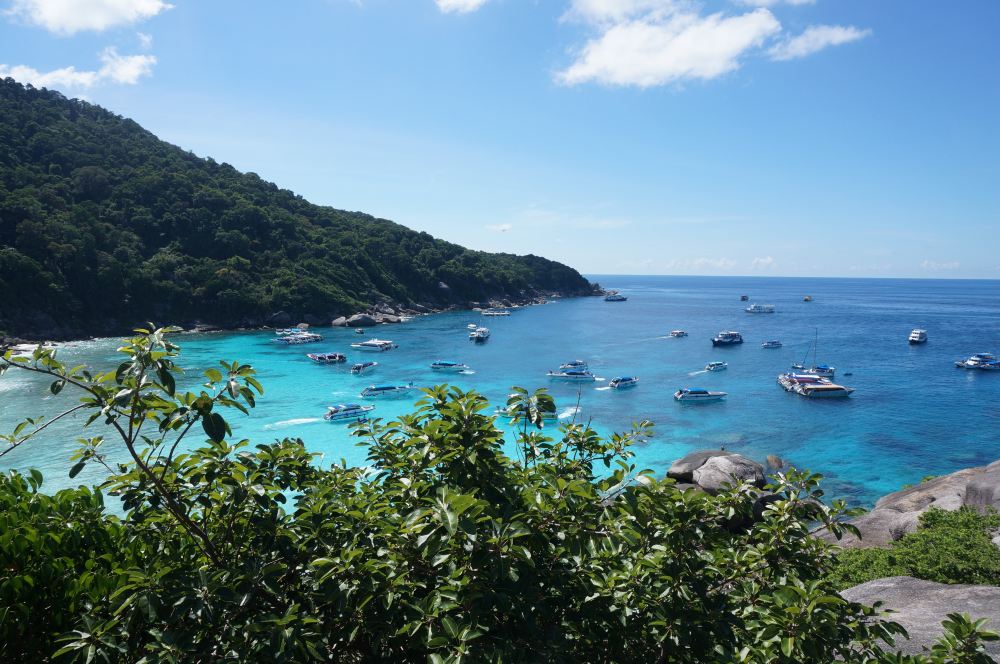 No beach destination has embraced the popularity of Thailand in its finest form like the Similan Islands. A chain of untouched islands and islets off the Khao Lak coast, and connecting the southernmost borders of Myanmar's Mergui Archipelago, this is the pinnacle of beauty. The various uninhabited islands constantly maintain their place as one of the world's most in-demand destinations for snorkeling and scuba diving enthusiasts. Rising out of ocean waters, as clear as glass, the protected islands teem with underwater life whilst giving home to secluded beaches with sand as fine as sugar. Repeating visitors describe it as Paradise Lost: we call it Paradise found when heading with us to the Similans.
Itinerary
A day that will bring you and your travel companions to one of the most pristine and unspoiled parts of Thailand that have gained international name and fame for its marine life and abundance in peace and serenity. Pick up from your hotel in Phuket will be around 6 am and gets you to the main pier for a speed boat ride to the Similan Islands, an officially declared National Marine Park since 1982. Closed during May and October for visitors in line with its protected status, snorkeling and scuba diving are amongst the most sought-after activities.
The Similan Islands are located in the junction between the Andaman Sea and the Indian Ocean. The 9 islands, covering an area of approximately 130 square kilometres, were created from volcanic activity some 65 million years ago, smoothened by glacial ice and now stand as granite-based, foliage covered, and coral loving tropical paradise. Clear tropical waters and notorious low in nutrients, which tend to eclipse any possibility of a high density of marine life are some of the 'commodities' ones will find here.
In the morning, we are taken across the Andaman Sea to head to Christmas Point for swimming and onto Donald Duck Bay for either swimming or a hike to the island's viewpoint (located on island number 8). Then, a first snorkeling stop is done at island number 9. Afterward, a buffet lunch is organized on a beautiful white sandy beach. Then, we will head to Honeymoon Bay and Koh Ha for a second snorkeling stop before heading over to Na Beach on Koh Miang where you can either snorkel in Princess Bay or explore the island and laze on the beach.
The journey back to the pier is made around 16:00PM. After a speedy trip over the crystal clear water, we reach the mainland and drive back to Phuket, where we expect to arrive in the evening.
.
Inclusions
A full day tour with a professional English-speaking assistance
Transportation by air-conditioned vehicle with professional driver
Return speed boat transfer from and to the Similan Islands
All entrance fees for visits as mentioned in the description
All applicable taxes and service charges
Lunch at a local restaurant is included (food only)
Use of life jacket, snorkeling equipment during the tour
Exclusions
Personal expenses such as meals, drinks, tips and gratuities, shopping, portage fees and optional tours, unless otherwise stated
Hotel accommodation in the destination of commencement.
Single supplement charges for single travelers, where applicable
Any airline tickets, visa fees, additional transportation cost from and to the general meeting point
Supplements for transfers for customers arriving or departing from any airport or resorts located outside the general pick-up and drop-off locations
Hotel expenses of a personal nature, should an overnight be included: this includes mini-bar consumption, laundry, room service, any telephone or other communication cost not mentioned in the program
Travel insurance coverage for customers (highly recommendable)
Change & Refund Policies
Free cancellation at or before 18:00 at least 1 day before the date of use
Cancellations made after 18:00 at least 1 day before the date of use will incur a cancellation fee of 100%
Partial cancellation of this booking is not permitted
How to Use It
All times are given in local time.
Please contact us at least 72 hours before your activity date to confirm your reservation and arrange transportation. Changes within 24 hours may be on request.
Pick-up times for excursions will be reconfirmed one day prior to commencement of your booked excursion. As an indication, the pick-up time from your accommodation is scheduled 30-60 minutes prior to the confirmed starting time.
Please be ready and waiting in your hotel lobby 15 minutes prior to your scheduled pickup time.
Upon pickup, please present your confirmation/voucher or photo ID in exchange for your activity.
In the event of no-show or change of accommodation without prior consent and confirmation from us within 24 hours may result in the applicable cancellation charges as outlined in the terms and conditions.
Activity Essentials
Our office hours are from 08:30 hrs. until 18:00 hrs. from Monday to Friday
Traveller Information
Adult: Age 12 to 80
Child: Age 4 to 11
Child from 0-3 years old is free complimentary.
Important Information
This tour is operated on joint / Seat-In-Coach basis only with English-speaking assistance on board.
Return transfers for this excursion are inclusive for customers staying along with Phuket and Khao Lak's beaches. Transfer from any harbor and Phuket's International Airport are excluded: supplements apply for customers who want to join this excursion outside one of these regions.
A minimum number of guests are required for this excursion to operate; many of our tours do not have limitations on group size, depending on the availability of seats and other factors. We regret that we are not able to communicate in advance about this.
We will do all possible to comply with any dietary requirements during this excursion; it may not always be possible to confirm your wishes in advance based on the choice of local restaurant.
We always will make efforts to confirm the exact pick-up time upon reservation. For any operational issues in which are not able to confirm the exact pick-up time in advance, we reserve the right to inform you the day before the departure of the tour.
Please note pick-up and drop-off services may not be confirmed for customers staying at private residences, apartment complexes, or other non-registered tourism accommodations. Customers may be asked to meet at a nearby hotel for pick-up and drop-off.
Natural elements of any kind have a destructive effect on electronic equipment. It is the customer's own responsibility to ensure that any camera, mobile telephone or other device is properly wrapped and protected against these elements. We cannot be held responsible in any way for negligence and/or not following suggestions for any damage related to this.
Please ensure that you bring sunglasses, a hat /cap and sunblock with a high SPF factor when traveling with us on this tour – even when it is cloudy, the sunrays still have immense power.
We reserve the right to make necessary changes to the excursion in case of unfavourable weather conditions or situations where we are forced to make alterations to guarantee the safety of our guests.
The protection of the country's flora and fauna is of immense importance for us. We will not pursue any activities for guests that are not in line with our animal, wildlife and environment protection principles.
It is the responsibility of the customer to provide us with the correct hotel information, should pick-up and drop-off services be included in the package. Any changes in accommodation outside 24 hours will be handled accordingly: changes within 24 hours may be on request.
In the event of no-show or change of accommodation without prior consent and confirmation from us within 24 hours may result in the applicable cancellation charges as outlined in the terms and conditions.
This excursion only runs from November until April.
The expected boat trip from the mainland to the Similan Islands takes approximately 90 minutes one way.
Recommended to bring: change of clothing (2 sets), towel, swimwear, and slippers / waterproof sandals.
We strongly advise not to bring any valuables with you as there are no lockers available.