Activity Details
Take a walk in the wild, and uncover the stories and sensory treasures of nature with Rainforest Lumina. The first such experience in Southeast Asia, Rainforest Lumina was first launched by the Singapore Zoo in 2018, as part of its 45th anniversary celebrations.
Visitors can expect to be enthralled by a mesmerising audio-visual experience that takes place across ten picturesque zones within the Singapore Zoo, and evokes the lush, luminous world of the rainforest at night.
Merging story and setting, Rainforest Lumina features a distinctive narrative where visitors get to meet the Creature Crew, a heroic group of eight virtual animals who will take you on a magical adventure like no other.
At the enhanced multimedia Water zone, be captivated by Bob the Otter, as he prances around his playground, displays his mastery over the weather, and conducts a symphony of light and sound orchestral music, in tandem with the spectacle of a simulated thunderstorm. Or pay a visit to the Treeto ps zone, where Tairee the White Tiger will welcome you to his habitat with an adorable song and dance routine.
Join them and the other Creature Crew to play, sing and discover the enchanted world of Rainforest Lumina. For wherever the Creature Crew roams, the rainforest blooms with wonder.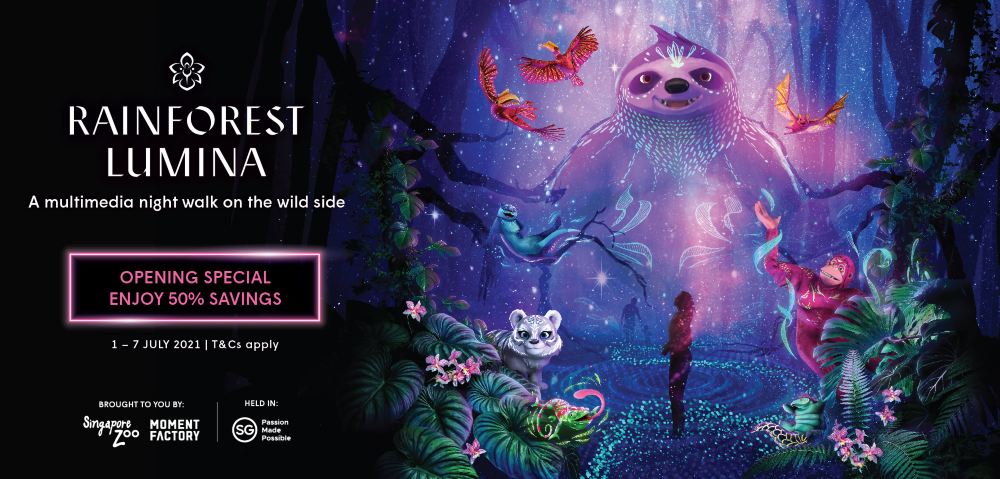 Inclusions
Rainforest Lumina Admission
Change & Refund Policies
Once this product is successfully booked, it cannot be changed or canceled
How to Use It
Admission times and opening hours are in local time
Must reserve your visit date and timeslot before arrival at the park: http://reseller.wrs.com.sg/ticketstore/guestbooktimeslot
Present the e-voucher & reservation on your phone and reservation to gain admission by scanning QR Code.
Address: 80 Mandai Lake Road Singapore 729826
Operating Hours: 7.15pm – 12am (Last admission timing at 10.15pm) Closed Mon to Wed
Rainforest Lumina operating days from 22nd November 2021 to 2nd January 2022 will be on Tuesday to Sunday.
Activity Essentials
Traveller Information
Adult: Age 18 to 59
Youth: Age 13 to 17
Child: Age 3-12
Senior: Age 60+
Admission for child below 3 years old is free
Important Information
This product is transferable. Please refer to Mandai Wildlife Group's Terms and Conditions for more information.