Device Details
Validity: within 30 days since the date of purchase, it can be used once.
Please provide a valid email after the order, and a QR code will be sent to it.
Country Coverage:
Albania, Algeria, Anguilla, Antigua and Barbuda, Argentina, Armenia, Aruba, Australia, Austria, Azerbaijan, Bangladesh, Barbados, Belarus, Belgium, Bermuda, Bosnia and Herzegovina, Brazil, British Virgin Islands, Brunei, Bulgaria, Cambodia, Cameroon, Canada, Cayman Islands, Central African Republic, Chile, Colombia, Costa Rica, Côte d'Ivoire (Ivory Coast), Croatia, Cyprus, Czech Republic, Democratic Republic of Congo, Denmark, Dominica, Dominican Republic, Egypt, Ecuador, El Salvador, Estonia, Faroe Islands, Fiji, Finland, France, French Guiana, Georgia, Germany, Ghana, Gibraltar, Greece, Grenada, Guadeloupe, Guam, Guatemala, Haiti , Honduras, Hong Kong, Hungary, Iceland, India, Indonesia, Iran, Ireland, Israel, Italy, Jamaica, Japan, Jordan, Kazakhstan, Kenya, Kuwait, Kyrgyzstan, Laos, Latvia, Liberia, Lithuania, Luxembourg, Macau, China , Madagascar, Malaysia, Malta, Malawi, Martinique, Mauritius, Mexico, Moldova, Mongolia, Montenegro, Morocco, Mozambique, Myanmar, Nepal, Netherlands, New Zealand, Nicaragua, Norway, Oman, Pakistan, Panama, Papua New Guinea , Paraguay, Peru, Philippines, Poland, Portugal, Qatar, Romania, Russia, Rwanda, Saudi Arabia, Serbia, Seychelles, Sierra Leone, Singapore, Slovakia, Slovenia, South Africa, South Korea, Spain, Sri Lanka, Saint Kitts and Nevi Sri Lanka, Saint Lucia, Saint Vincent, Sudan, Swaziland, Sweden, Switzerland, Taiwan, Tajikistan, Tanzania, Thailand, Tonga, Trinidad and Tobago, Tunisia, Turkey, Turks and Kai Kos Islands, United Arab Emirates, Uganda, Ukraine, United Kingdom, Uruguay, United States, Uzbekistan, Vanuatu, Vietnam, Yemen, Zambia
Activity Details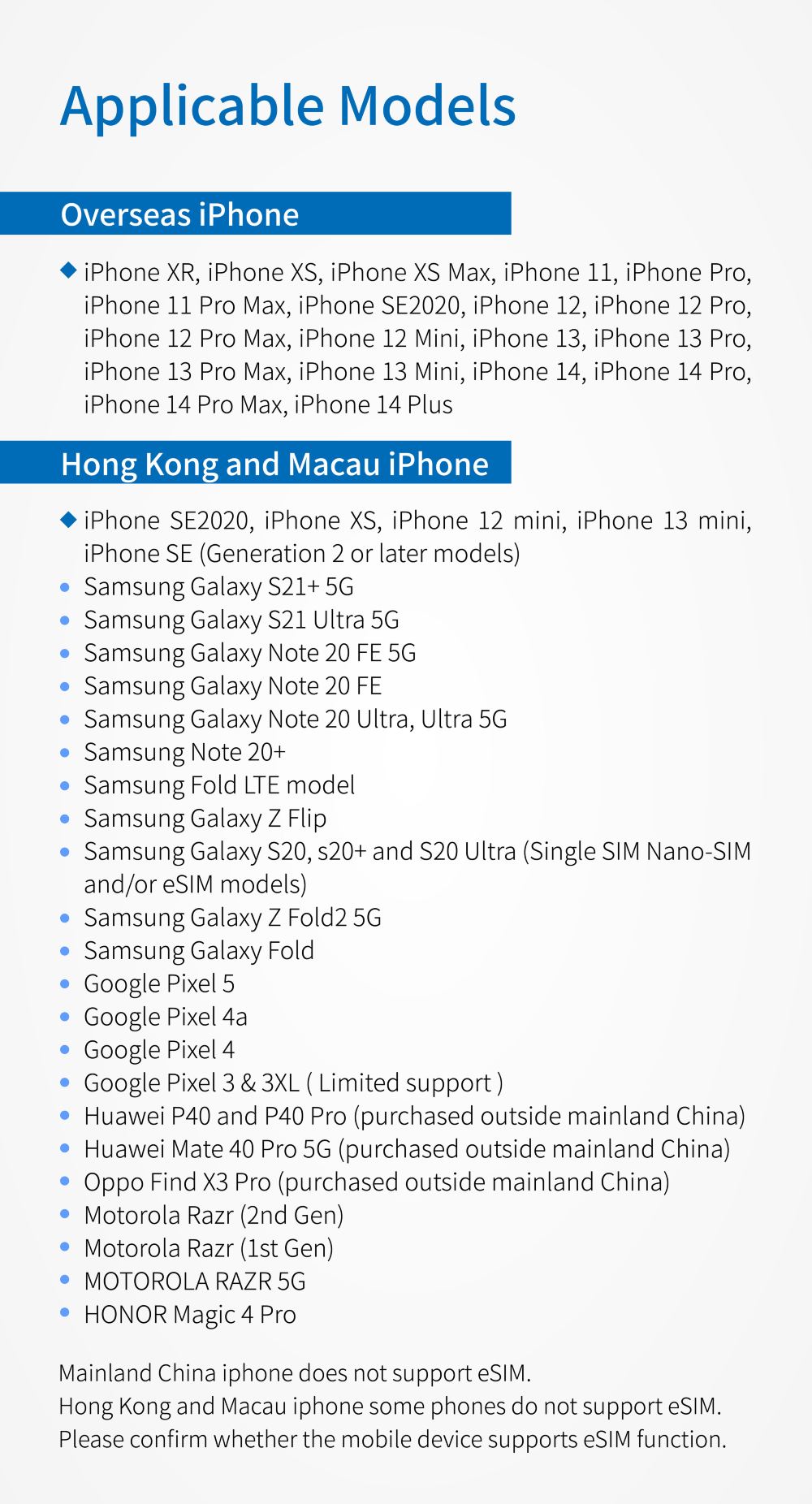 Booking Validity
Valid for 30 days from the booking date, Valid for 1 use(s) only
Change & Refund Policies
Once this product is successfully booked, it cannot be changed or canceled
How to Use It
How to download?
Open the eSIM activation email, and the eSIM activation QR code will be displayed in this email
Click Settings on your mobile phone and open Cellular (ios) or SIM Card Management(Android)
Click to add a Cellular Plan (ios) or SIM Card (Android), and then agree to download Cellular Plan (ios) or SIM Card (Android), after that, use the mobile phone to scan the QR code to download
How to use Internet?
After the download is successful, close the primary card if you already have
Enable the Cellular Plan (ios) or SIM Card (Android), and the LTE logo will be displayed in the upper right corner after success
Turn on roaming to connect to the network and then can surf the Internet normally
Please note that if there is no network after enabling, please turn on the airplane mode and then turn off or restart the phone
How to close?
Open the open Cellular (ios) or SIM Card Management (Android), and click to turn off the Cellular Plan (ios) or SIM Card (Android) (the steps of enabling and disabling are the same)
Important Information
How to download and use eSIM after purchasing?
The system will send the QR code to your email to download the eSIM, after you purchasing.
What should I do if I cannot receive the email to download the QR code?
Please contact customer service to resend the QR code.
Can I download the eSIM profile on different devices
No, an eSIM profile can only be downloaded to one device for use.
Why can't I "Join Mobile Network Plan" after scanning the eSIM QR code on my device?
Please make sure your device is connected to WiFi and try again.
How to switch data to eSIM?
Please check that the cellular number is turned on, select "Cellular Network - Cellular Number - Enable this number". If you still have problems, please contact customer service.
How to check ICCID?
If the cellular number is turned on, you can go to "General - About This Device - eSIM" to check the ICCID.
I have successfully activated the eSIM service, but the applicable device cannot connect to the mobile network, what should I do?
Please shut down and restart your device or update the phone version and try again later.
The problem about eSIM cannot sharing hotspots
Due to the problem of different mobile phone terminal versions, if the eSIM can be used normally but cannot share the hotspot, please try to see if it can be recovered according to the following guidelines:
Whether the mobile phone is a contract phone or a locked phone
Whether the VPN is turned off
Whether data roaming is enabled
Whether to set the eSIM as the primary number
Whether the phone is updated to the latest version
Please use a physical SIM card to access the Internet, turn on the mobile hotspot sharing function (make sure the hotspot is available), then do not turn off the hotspot and switch the mobile phone to eSIM to access the Internet. Please try several times and switch the machine on and off.
If the above problems have been eliminated, please contact our customer service.