https://au.trip.com/travel-guide/attraction/haikou/sugong-shrine-13672454/
Overview
Book
Nearby
Reviews

Win Prizes
Recommended
Recommended sightseeing time:
1 hour
Phone:
0898-65855653, 0898-65353047
Highlights of Sugong Shrine
Su Gong Temple was built to commemorate Su Shi, a great writer of the Northern Song Dynasty. There are relics of Shuangquan and Dongzhuo Pavilion left by Su Shi. This is a garden-style courtyard, with ancestral halls, green trees, flowers scattered in an orderly manner, winding paths of streams, and ding dong of spring water. On the left side of the Su Gong Temple is the Qiongyuan Garden, which covers an area of nearly 10 acres. In the garden, there are Dongpo relics such as Fusu Spring, Suquan Pavilion, and Xixinxuan. There is a stone tablet inlaid on a pink wall next to Fusuguo. The three characters "Fusuquan" are engraved on the stone tablet. The cool spring water in front of the tablet fills the upper and lower square wells. Legend has it that Su Dongpo discovered it here. The spring water is pure, clear and translucent, with a sweet and refreshing taste. It has been filled with spring water, and scale has not been seen for more than ten years. It is very fragrant and mellow to make tea. It is known as "the first spring in Hainan". Now the spring water in the well is still crystal clear, but the spring water has not been gushing out. Above the Floating Su Spring, there are Suquan Pavilion and Xixinxuan. It is said that these two were built by Weng Ruyu of the Ming Dynasty and Ye Rulan of the Qing Dynasty respectively because of a poem by Su Dongpo.
Located Nearby of Sugong Shrine
All (31)
Latest
Positive (28)
Photos (10)
You Might Also Like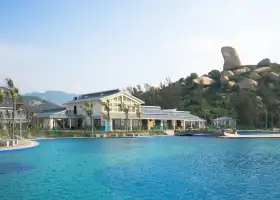 Naqing Peninsula Geological Ocean Park