All you need to know before you go: Canada entry requirements

Catalogue
Latest information

For visitors return or travel to Canada:

Who can use Advance CBSA Declaration?

COVID-19 emergency border measures have ended in Canada

For international travelers to Canada: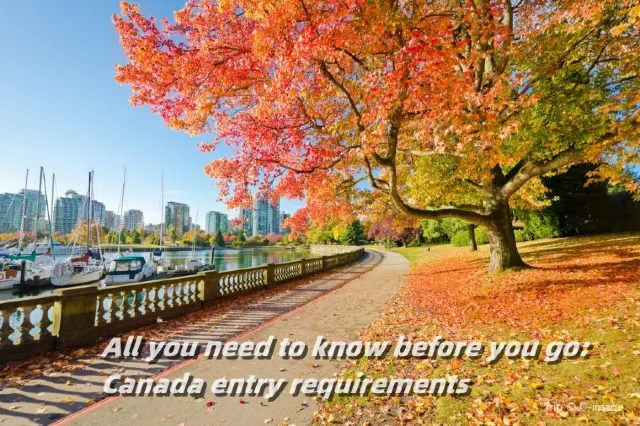 With many countries now having eased the COVID-19 restrictions, travelling between countries would be easier and more convenient gradually. For travellers who enter Canada since October 1, 2022, below is the latest entry information that we have collected for you.
The Public Health Agency of Canada lifted pre-departure COVID-19 testing requirements for travelers from China on March 16 2023.
Air travelers to Canada on flights originating from China will no longer be required to provide evidence of a COVID-19 test result before boarding as of 12:01 a.m. Eastern Daylight Time on March 17, 2023, according to a statement on the agency's website.
1. Proof of COVID-19 vaccination is not required
2. COVID-19 pre-entry and arrival tests are not required
3. Quarantine after visitors enter Canada is not required
- If travelers are flying into Toronto Pearson, Vancouver, Winnipeg, Halifax or Montréal-Trudeau international airports, they can still use ArriveCAN to complete the Advance CBSA Declaration to save time upon arrival.
The Advance CBSA Declaration feature is an optional feature built into ArriveCAN. At present, It is available to international air travellers who enter Canada at:
Toronto Pearson International Airport (YYZ) Terminals 1 and 3
Vancouver International Airport (YVR)
Montreal-Trudeau International Airport (YUL)
Winnipeg Richardson International Airport (YWG)
Halifax Stanfield International Airport (YHZ)
In the coming months, the optional feature will also become available to travellers arriving at the Calgary, Edmonton, Billy Bishop Toronto City, Ottawa and Québec City international airports.
Note: At this time, travellers cannot use the Advance CBSA Declaration with NEXUS kiosks.
5. Pre-boarding tests for cruise passengers are not required
6. As always, travel documents are required
7. Health checks to board planes and trains are not required
8. Wearing masks on planes and trains is not required
It's still strongly recommended that visitors need to wear a high quality and well-fitted mask or respirator while they travel.
If you have symptoms of COVID-19, you shouldn't travel to Canada.
If you feel sick or experience any symptoms of COVID-19 during your travel to Canada or upon arrival, you should:
- inform the flight attendant, cruise staff or a border services officer upon arrival. You may be referred to a Quarantine Officer for a health assessment and further direction.
- avoid taking public transportation
- check provincial or territorial requirements for what you need to do if you're symptomatic or have tested positive for COVID-19
All international travellers must carry acceptable identification and a valid visa (if necessary) when entering Canada. A passport is recommended because it is the only reliable and universally-accepted travel and identification document for the purpose of international travel.
International transport companies, such as airlines, must make sure that travellers have proper, valid travel documents. If you do not have the proper documents, you may be delayed or refused entry into Canada. What you need will depend on where you are from, how you are travelling, and what documents you are travelling with. Visitors can consult entry requirements by country.
Citizens of the U.S. who are members of the NEXUS program may present their membership card as proof of identification and as a document that denotes citizenship, when arriving by air (when coming from the U.S.), land, or marine modes.
Citizens of the U.S. who are members of the FAST program may use their cards as proof of identity when arriving by land and marine modes only.
Permanent residents of the U.S. who are members of the NEXUS or FAST programs must travel with a passport and proof of permanent residence, and may be asked to present these documents to the officer upon arrival at the border.
All visitors arriving from or transiting through the U.S. are encouraged to visit the U.S. Customs and Border Protection website for information concerning the U.S. Western Hemisphere Travel Initiative, and the requirements to enter or return to the U.S.
Copyright © 2023 Trip.com Travel Singapore Pte. Ltd. All rights reserved
Site Operator: Trip.com Travel Singapore Pte. Ltd.