New Modern 3 Br Home in Heart of Irvine
Complete address will show after booking
New homes in the heart of Irvine! This beautiful home features an entry level master suite with two additional master suites upstairs. Everything is fresh, clean and state-of-the-art new construction, with awesome great room, huge kitchen with tech space/den, white shaker cabinets with soft close drawers, Bosch stainless steel appliances, Moen 1800 series Steel Kitchen sink and Moen Chrome Faucet plus gray Quartz countertops and designer selected backsplash tile, just to name a few of the included features. Three-story, contemporary townhome design with tons of light, skylight and 9 foot or higher ceilings, direct access two car garage and Energy Efficient construction. Award Winning Tustin Schools. Generous deck and all within walking distance to Diamond Jamboree. Lock and leave lifestyle is just minutes to John Wayne Airport, The District, Park Place, and South Coast Plaza. LOCATION This cozy unit is centrally located in the heart of Orange County, a short drive to the University of California in Irvine. Walking distance to the Woodbury Town Center which includes: grocery stores and several dining options. Great malls within a short 15 minute drive: Fashion Island, South Coast Plaza, Irvine Spectrum… etc. The property is ideal for couples and families wanting to explore SoCal. Within 20 minutes to some of Southern California's premier beaches and local attractions such as Disneyland and Knotts Berry Farm. Irvine is centrally located in Southern California and provides you access to Universal Studios, Getty Center, San Diego Zoo and SeaWorld, all within an hour drive. No matter where you start, Orange County is an easily accessible destination in SoCal. Whether you seek water sports or skiing, boating or golfing, or access to the desert and its casinos, it is all available in Orange County within an hour drive. Looking for the Strip? Las Vegas is only a 4 hour drive. *Utility cap is $225/month and guest is responsible for over-usage. **Government issued ID is required for check-in
Show More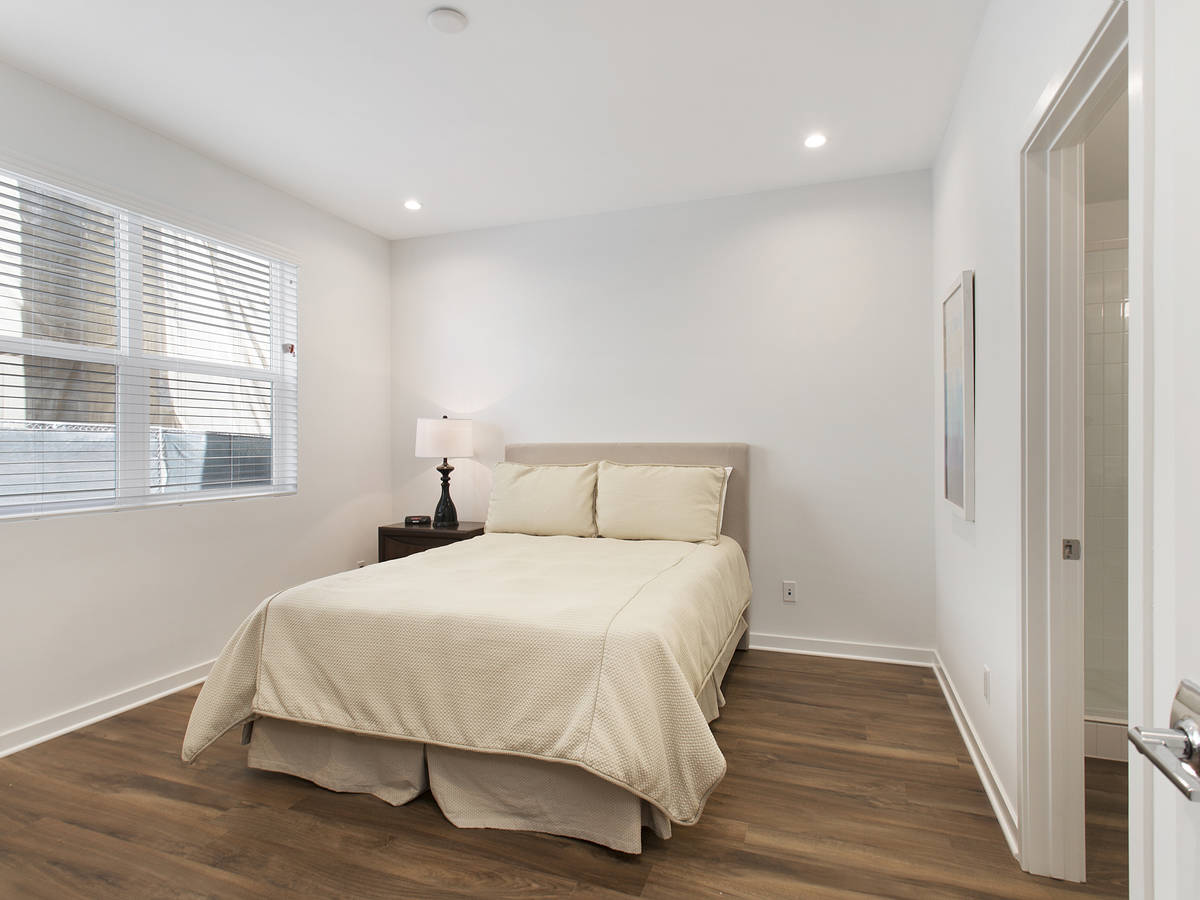 1 place of interest within 1000m, 4.2km from downtown
View Map

3B3.5B Condo
2 Queen bed and 1 King bed
All Amenities
Hotel Policy
Check-in and Check-out
Check-in
from 16:00 to 23:00
Check-out
from 10:00 to 11:00
Important Information
Check-in: 16:00–23:00, Check-out time: 10:00–11:00.,Please note your hotel check-in and check-out times.
Hotel Description
New homes in the heart of Irvine! This beautiful home features an entry level master suite with two additional master suites upstairs. Everything is fresh, clean and state-of-the-art new construction, with awesome great room, huge kitchen with tech space/den, white shaker cabinets with soft close drawers, Bosch stainless steel appliances, Moen 1800 series Steel Kitchen sink and Moen Chrome Faucet plus gray Quartz countertops and designer selected backsplash tile, just to name a few of the included features. Three-story, contemporary townhome design with tons of light, skylight and 9 foot or higher ceilings, direct access two car garage and Energy Efficient construction. Award Winning Tustin Schools. Generous deck and all within walking distance to Diamond Jamboree. Lock and leave lifestyle is just minutes to John Wayne Airport, The District, Park Place, and South Coast Plaza. LOCATION This cozy unit is centrally located in the heart of Orange County, a short drive to the University of California in Irvine. Walking distance to the Woodbury Town Center which includes: grocery stores and several dining options. Great malls within a short 15 minute drive: Fashion Island, South Coast Plaza, Irvine Spectrum… etc. The property is ideal for couples and families wanting to explore SoCal. Within 20 minutes to some of Southern California's premier beaches and local attractions such as Disneyland and Knotts Berry Farm. Irvine is centrally located in Southern California and provides you access to Universal Studios, Getty Center, San Diego Zoo and SeaWorld, all within an hour drive. No matter where you start, Orange County is an easily accessible destination in SoCal. Whether you seek water sports or skiing, boating or golfing, or access to the desert and its casinos, it is all available in Orange County within an hour drive. Looking for the Strip? Las Vegas is only a 4 hour drive. *Utility cap is $225/month and guest is responsible for over-usage. **Government issued ID is required for check-in
Services & Amenities
Outdoor swimming pool
Multilingual staff
Front Desk Services
Express check-in and check-out
Public Area
No smoking in public areas
Haven't found the right hotel yet?