Activity Details
Embark on an immersive underwater journey to discover the awe-inspiring world of life in the ocean at the S.E.A. Aquarium.
Check out the diverse aquatic life from around the world, such as manta rays, sea jellies, corals, sharks, and many more. Visitors can come face-to-face with over 100 sharks from 12 species, spot 40 poisonous and venomous animals, including the brightly-coloured poison arrow frogs, or explore one of the world's largest collection of live coral habitats featuring over 150 species of hard and soft corals.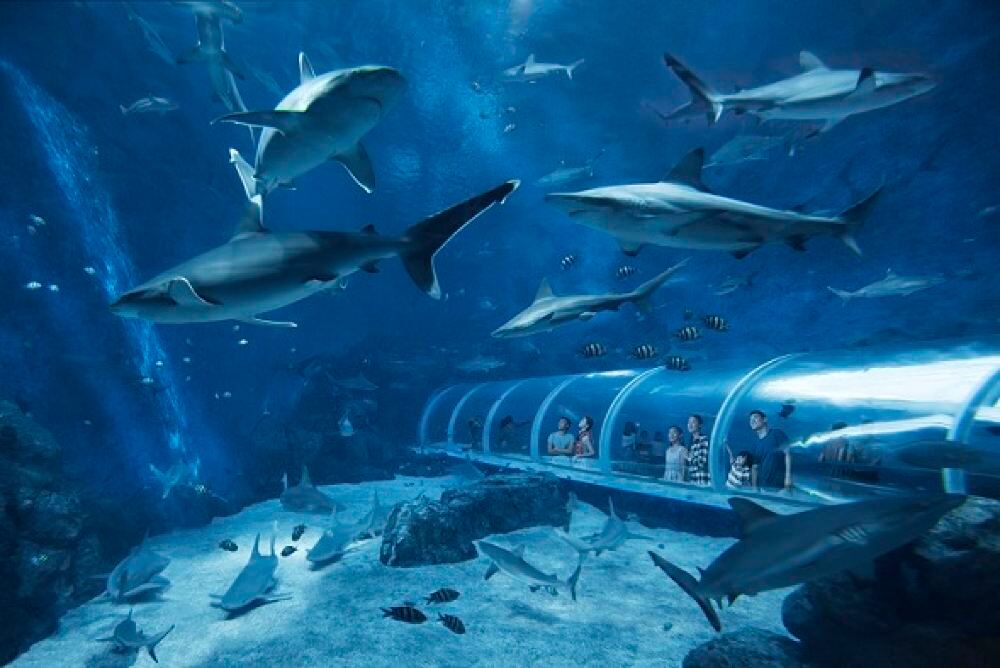 South East Asia Aquarium (S.E.A. Aquarium) at Resorts World Sentosa is one of the world's largest aquariums home to more than 100,000 marine animals representing 1,000 species. Featuring more than 45 diverse habitats, S.E.A. Aquarium exhibits close to 80 threatened species including the manta ray, Clarion angelfish and a variety of beautiful corals that mirror a pristine aquatic environment. Through interactive programmes, up-close animal encounters and immersive learning journeys, S.E.A. Aquarium aims to inspire visitors to protect the world's oceans. Committed to public education, the aquarium is interspersed with interpretive panels, touch screens, touch pools and other hands-on experiences that provide an immersive learning journey.
The centerpiece of the aquarium is the Open Ocean Habitat which provides one of the planet's largest windows to the ocean with a floor-to-ceiling viewing panel measuring 36 metres long and 8.3 metres tall. Immerse in a magical marine world, marveling at majestic reef manta rays, giant groupers, zebra sharks and a wide variety of ocean life through this spectacular vista.
Other major exhibits includes:
· Shipwreck Habitat - Housing more than four million litres of water, the Shipwreck Habitat is one of the largest habitats in the aquarium. This exhibit simulates how shipwrecks evolve into thriving marine habitats with sponges and corals colonising the wrecks.
· Shark Seas - This exhibit is home to more than 100 sharks from 12 species, including the sand tiger shark, nurse shark, black-tipped reef shark and the endangered scalloped hammerhead shark which has an almost 360-degree vision.
· Coral Garden - This cylindrical habitat showcases a colourful reef world with more than 5,000 fishes from over 100 species. Visitors can look out for unique species such as the angelfish which goes through drastic changes in their patterns and colouration from juvenile to adult.
· Sea Jellies - The sea jelly gallery is one of the most visually stunning habitats to showcase the fluid dynamics of these swimming prehistoric creatures. This is amongst the aquarium's most popular and Instagram-worthy spots for shutterbugs.
Also check out the touch-pool experience that will have kids and adults alike amused. Allow the knowledgeable guides to educate you on the sensory side of aquatic discovery as you touch and hold sea stars and sea cucumbers.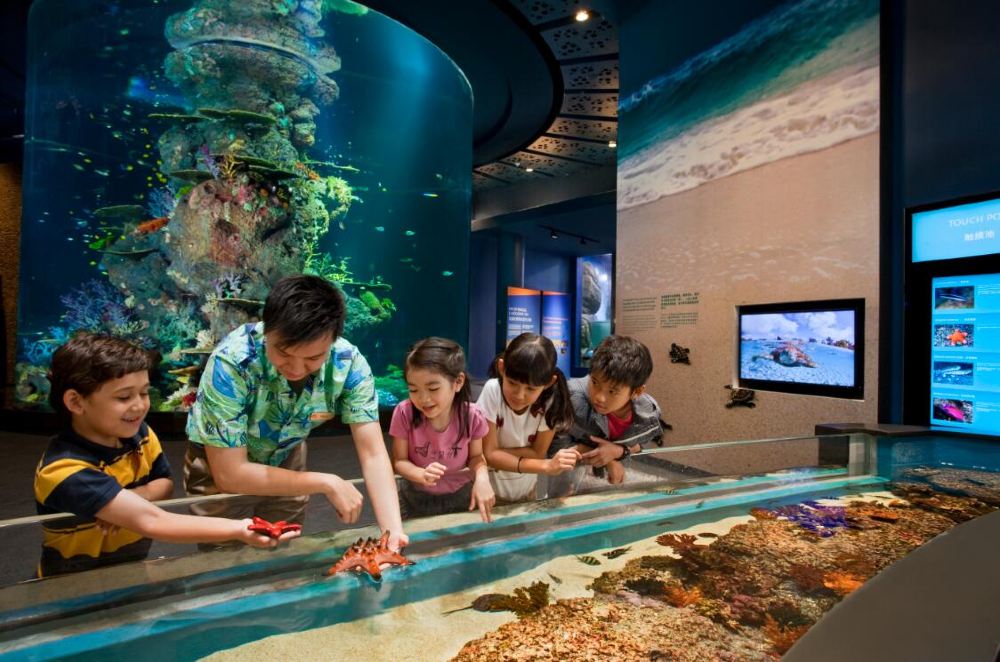 Opening Time: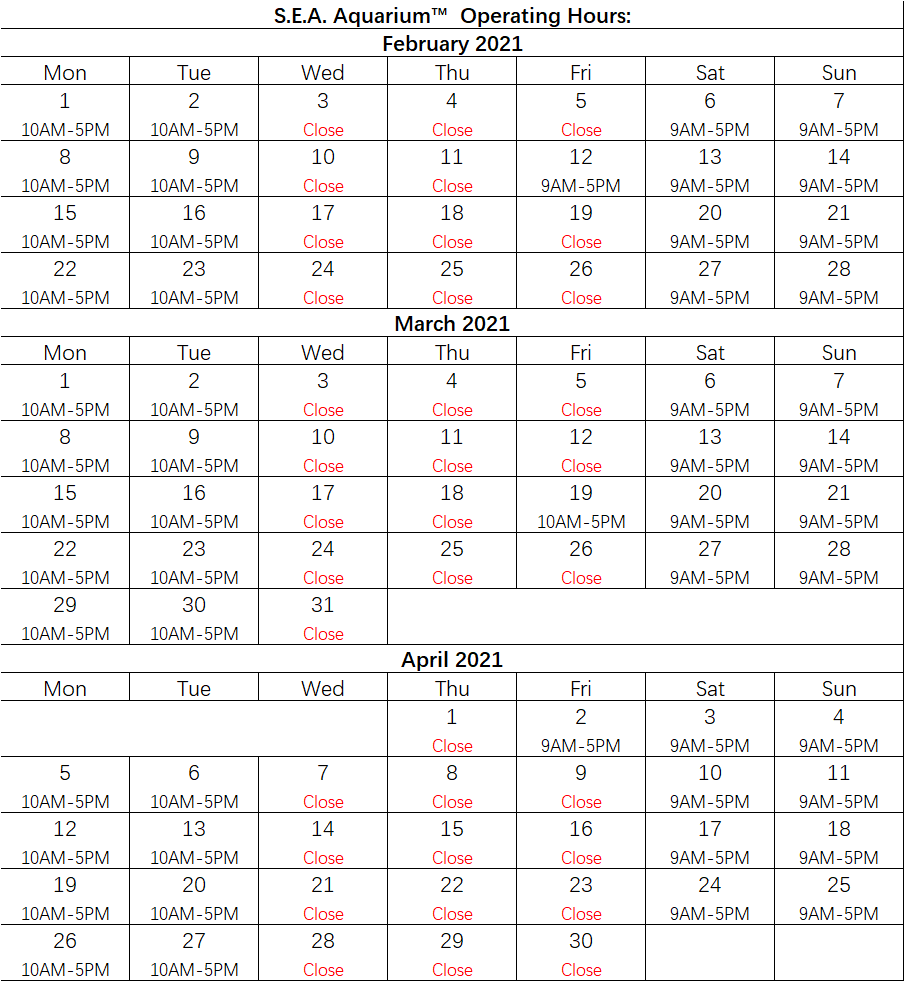 Inclusions
S.E.A. Aquarium™ One-Day Ticket
Exclusions
All personal expenses and expenses not mentioned in the inclusions
Change & Refund Policies
Once this product is successfully booked, it cannot be changed or canceled
How to Use It
All times are given in local time
After successful booking on Trip.com, guests are required to make a reservation prior to visit at https://sdm.rwsentosa.com.
Reservations are available on a first-come first-served basis, with limited availability per day, Please bring along the confirmation email (print or softcopy) of your advanced reservation together with your valid ticket of the corresponding park for verification and entry.
Present the printed voucher or e-voucher on your phone along with your registration confirmation email, to gain admission
Please bring passports for age verification when booking child or senior tickets
Address: S.E.A. Aquarium, 8 Sentosa Gateway, Sentosa Island, Singapore 098269
Operating Hours:
January – March: 9am – 5pm, Saturday & Sunday | 10am – 5pm, Monday & Tuesday | 9am – 5pm on January 1st and February 12th | 10am – 5pm on March 19th
Please refer to your voucher for the ticket validity period
Activity Essentials
Traveller Information
Senior: Age 60+
Adult: Age 13 to 59
Child: Age 4 to 12
Free admission for children under 4
Important Information
Please provide your personal information and contact details when booking
If you need to exit the Aquarium during your visit, please obtain a re-entry hand seal at the exit gate
Open on select Public Holidays/Eve of Public Holidays and School Holidays. View here for operating days.